Our Lady of the Rosary Catholic School, The Entrance is a Kindergarten to Year 6 co-educational school located in the Diocese of Broken Bay at Shelly Beach, on the Central Coast New South Wales.
With a population in excess of 450, the students from OLR are drawn from our Parish of Our Lady of the Rosary, The Entrance from the surrounding suburbs including Bateau Bay, Shelly Beach, The Entrance, North Entrance, Long Jetty, Toowoon Bay, Blue Bay and Killarney Vale.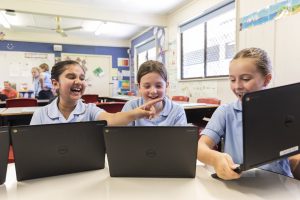 The school motto of 'Celebrating Community' is evident in the operation of the school and the involvement of all. The staff are dedicated to ensuring that the Gospel messages and teachings of Jesus are evident daily in all dimensions of school life.
OLR Catholic School fosters respect, forgiveness, learning and justice in our community. Our parish and school community actively participate in and support all aspects of school life.
Our Leadership Team
---
Principal:                                                                 Mrs Yvette Owens
Assistant Principal / Literacy Coach:                     Mrs Maree Sawyer
Acting Religious Education Coordinator:              Mrs Joanne Moore
Curriculum & Maths Coordinator K-2:                  Mrs Bernadette Taylor
Curriculum & Maths Coordinator Grades 3-6:       Ms Kerry McDonald
PBL Wellbeing Coordinator:                                  Miss Nikki Owens
ICLT Coordinator:                                                  Mrs Kelli Gray
Gifted and High Potential Learning Coordinator:   Mr Lee Brown