Administration
Our Administration area or 'front office' provides a welcoming and helpful environment for all parents and children. The administration team is always happy to assist with any queries or concerns you may have.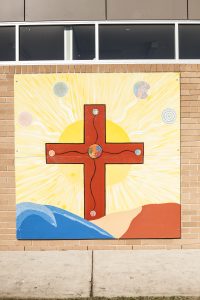 Chapel
The Our Lady of the Rosary Chapel is part of our newly built hall. This is the main sacred space within our school which is regularly used for masses, reconciliation and other celebrations. It is encouraged to be used as a place of quiet and silence on these occasions.
Hall
A large open space, newly constructed, used for assemblies and group activities. The Hall has a stage area for performances and presentations. The Before and After School Care operates from the hall.
Oval
In February 2007, the oval was resurfaced and fitted with an underground sprinkler system thanks to a Federal Government Water Grant and the Catholic Schools Office. It is a large area that caters for Physical Education lessons, recess and lunchtime activities.
Viv Simnett Room
This room is attached to the hall and is used for smaller groups and meetings. This room is dedicated to the memory of Vivienne Simnett who was a long serving teacher of OLR. Vivienne passed away in 2005.
Basketball Court
Thanks to the efforts of the P&F committee, we now have a large area for the children to use during Physical Education lessons, as well as recess and lunchtimes.
Play Equipment/Shade Areas 
The play equipment is used by many children wanting fun, enjoyment, coordination and agility skills. The equipment is shaded and the ground is covered with softfall for the children's safety. We have a shaded lunch area that all children use during recess and lunchtimes.
Canteen
The Canteen Manager has secured 'Gold Awards' for our healthy food service. There are many fun food days organised throughout the year. The canteen is open every school day. ( see canteen price list)
Library
The library is a large attractive space that is centrally located for easy access. The doors are open before and after school and during lunchtimes to children wishing to borrow, research or just to enjoy the air conditioned comfort while participating in the many activities on offer.
Learning Support Office 
We are fortunate in having a Learning Support Team of dedicated people who assist class teachers with children who have been assessed as being eligible for Integration Funding. The Learning Support Team has an office situated next to the uniform shop.